The compare and highlight features – indicated by icons on the upper left hand corner of New Idea – allows users to enlarge one or two ideas to discuss.
Highlighting Ideas
Here's how to highlight ideas.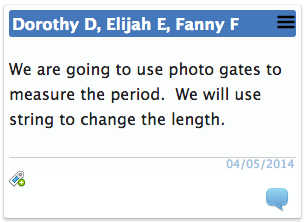 To highlight an idea, simply select the icon in the top right corner of the Idea Box.



You can then choose from three different colors: orange, red, and purple. Select Default to set the idea back to normal.





Comparing Ideas
Here you will see the process of comparing two ideas.


To compare two ideas, first select the icon in the top right corner of an idea, then the Compare button.



Do the same thing for the idea you would like to compare the first one to.



Your two idea will then be compared side-by-side.



← Responding To and Tagging Ideas Organizing Ideas →


Feedback
Thanks for your feedback.